Home          Factory          Construction          Range          Shop
HOLD ON - Whats going on here !!
At SUP Inflatables we always keep our eyes open, never be asleep to new possibilities, Inflatable Paddle Boards has opened the sport to the masses, affordable, durable and very easy to transport, remembering back to a time when all SUPs we made of fibreglass and carbon only seams like an age ago, but they have never gone away, they have always been there especially in the performance race or surf markets and the for people who wanted that amazing looking SUP that not only looked good on the water but also like a piece of art on the wall ... so when in late 2018 we started to discover Sunova and the amaming boundaries they are pushing with hard paddle boards we had to be involved ... Something new, something outside the box 
WELOME - SUNOVA SURFBOARDS AND THE BOARD FACTORY CO.
ONLY THE BEST TEAM WINS - NOT THE BEST PLAYER
Let me intorude you to Bert Burger, Martin Jandke and Klaus Christian Mueller who have created one of the best teams in the industry. Together they make better Products in thier own manufacturing facility, The Board Factory Co., Ltd. for Sunova Surfboards.
Their goal is to work and accept only the highest standards, there is so much to this band we have outlined key facts here, but many of thinks with these pages will take you directly to the information on the Sunova site, we let the experst do the talking.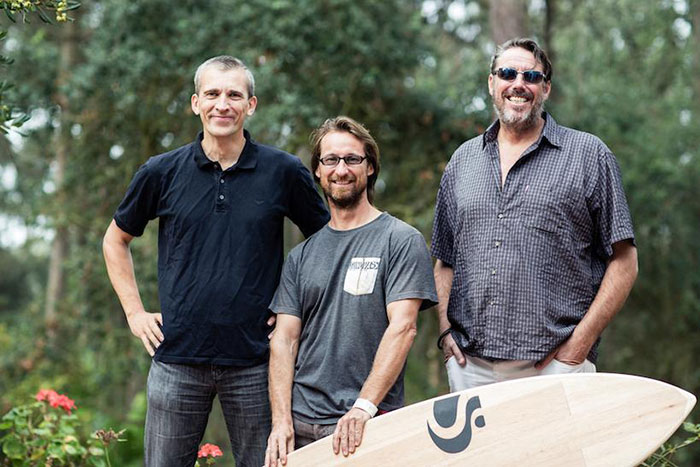 From left to right - Klaus Christian Mueller, Martin Jandke and Bert Burger
Bert Burger started some 30 years ago with his first surfboard shape, the countless hours of mingling with different materials and coming up with a completely different and yet so revolutionary agile technology. This climaxed together with Nev Hyman by creating Firewire Surfboards and the total mainstream of his inventions.
Returning back to Sunova and supported by Martin Jandke and and Klaus Christian Mueller. With years of manufacturing, R&D and sales experience at Cobra International Co., Ltd. (the worlds largest Surfboard Factory). LEAN manufacturing (or TPS - The Toyota Production System) powers both of their professional minds fuelled from Klaus' many years experience in the Automotive Industry.