Home          Factory          Construction          Range          Shop
Sunova Paddle Board Construction
SUNOVA PADDLEBOARD CONSTRUCTION
XXX - full BALSA sandwich, carbon rail. A super light, strong board without the price tag of Carbon boards.
ECO TEC - a BAMBOO sandwich technology with a highly reinforced rail for getting you going..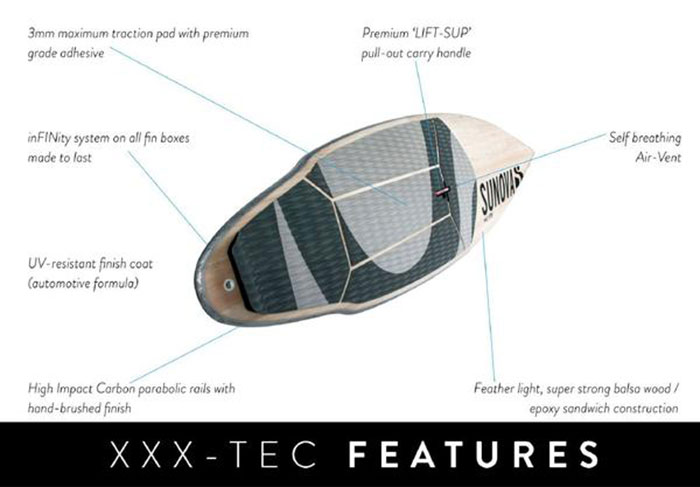 Sunova Paddle Board XXX TEC Balsa wrap
This construction is super strong and very light, Sunova's XXX TEC is constructed with tiny "I-beams" formed in the Balsa throughout the deck which provide strength and stiffness, the bottom is soft and supple, with a built in "give" to it, which makes all Sunova's buttery smooth on even the choppiest day.
What this mean is these boards have the strength and weight of carbon, without the high price.
The XXX TEC has no paint, except a little strip of hand painted silver brushed over the carbon Parabolic rail, not only does it look amazing but hides small scratches caused by the paddle
The fin boxes are set in a large piece of high density foam, covered with bamboo and multiple layers of glass. The fin will break before the box.
And finally there is a large, grippy deckpad with stomper (on surf modes), a Goretex vent for trouble free pressure control, a leash plug and a LiftSUP handle. Each Sunova over 8' has a mini Mast Track installed, so they can be used as a windSUP.
They are very pleasing boards to look at.... and better to Ride.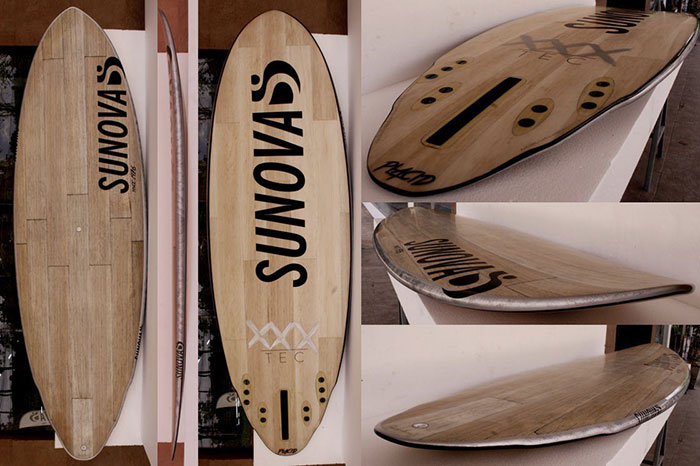 Sunova Paddle Board ECO TEC Balsa wrap
Eco TEC, a less expensive option in some models
Eco TEC looks amazing and uses a Bamboo wood instead of Balsa, these boards are made in a similar way to the XXX TEC boards but the with Bamboo being available in wider sheets materials than the Balsa (max 10 x 100cm so a lot more time consuming to put on the boards)that helps keep the cost down, The down side of thesis that Bamboo is heavier then Balsa.
Bamboo is also a more readily available material so the costs of raw materials are cheaper. The ECO TEC is a strong was to make a board and is the perfect entry level All round paddle board for riders that want a board that has great glide and durability with looks to match.
Sunova and Burt Burger have made indepth
videos on every single aspect of the design, see full list here