We carefully select only the best inflatable paddleboard brands to grace our shelves; we are paddleboarders, and as such we only want to sell quality boards that will perform and last. Although new to the UK, Imagine SUP is an established brand with plenty to shout about, so read on to learn a little about them and to check out their inflatable paddleboards.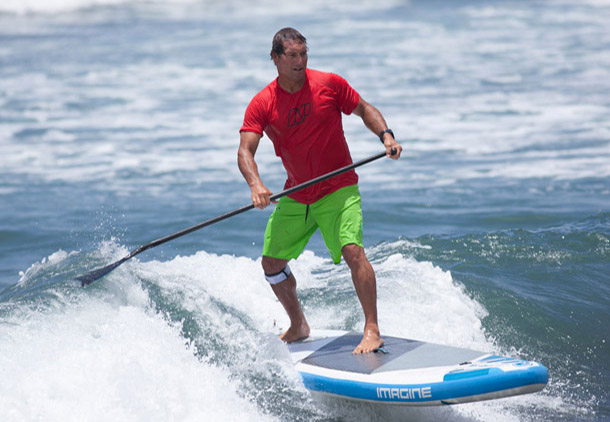 TRUE SURF PEDIGREE
Imagine started back in 2006 and has grown from a few watermen dreaming of creating their perfect boards, to now being a global SUP brand. Key to the success of Imagine SUP is the involvement of the great Dave Kalama. This man needs no introduction, but for those who aren't aware Dave Kalama was the man who reintroduced stand up paddleboarding to the masses, with good friend and surf legend Laird Hamilton. Dave Kalama designs SUPs for Imagine, pouring experience and passion into the creation of shapes that will excite, from your first time paddling to your perfect bottom turn. Dave Kalama has done huge amounts for the progression of watersports. This Hawaiian waterman has been a professional windsurfer, helped to pioneer big wave tow-in surfing and stand up paddleboarding. Each SUP that Imagine produce has gone through rigorous design, prototyping and testing with Dave at the helm, ensuring that the boards they produce are truly great.
Inflatable paddleboards are a key section of the Imagine range, taking their tried and tested hard board shapes and adapting them to create the ultimate in performance crossed with usability. We're very excited to be involved with a dedicated SUP brand with such great history, and that we are confident will have such a great future. Watch the video below to hear from Dave Kalama himself.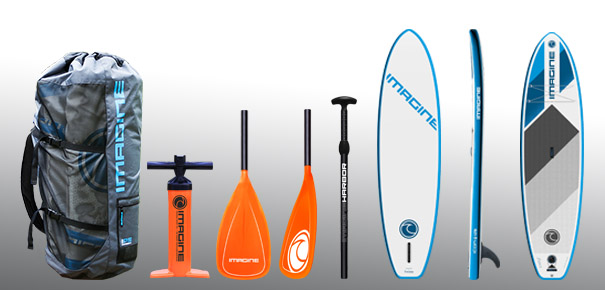 ICON
The first inflatable paddleboard from the Imagine SUP range to be introduced to the UK is the Icon. The Imagine SUP Icon is the inflatable version of their all-round hard SUP. It offers plenty of stability for performance in a range of conditions and for ease of use for first-time flat water paddlers. This SUP really handles itself well in the surf, paddling fast into the waves and being manoeuvrable to get your turns in. This inflatable paddleboard also offers exceptional value for money.

LEAVE NO TRACE
As the UK's leading online inflatable SUP shop we were specifically chosen to launch the Imagine SUP brand in the UK. We love the ethos behind the company and their commitment to producing quality equipment; we wish them all the success in the future.
If you have any questions about the Imagine SUP range, please get in touch as we're hear to help.