Naish SUP have come to the SUP Inflatables shelves in 2014, we're very excited to be stocking this world famous brand. Naish have been making watersports products for many years, the brand forming off of the back of the great talents of Robbie Naish.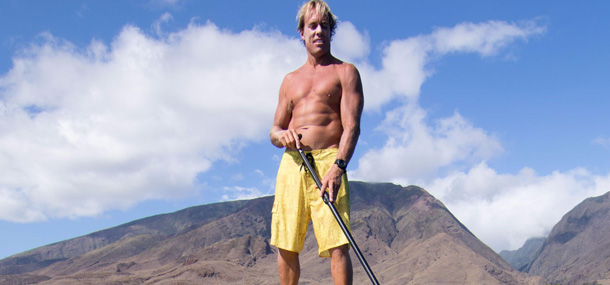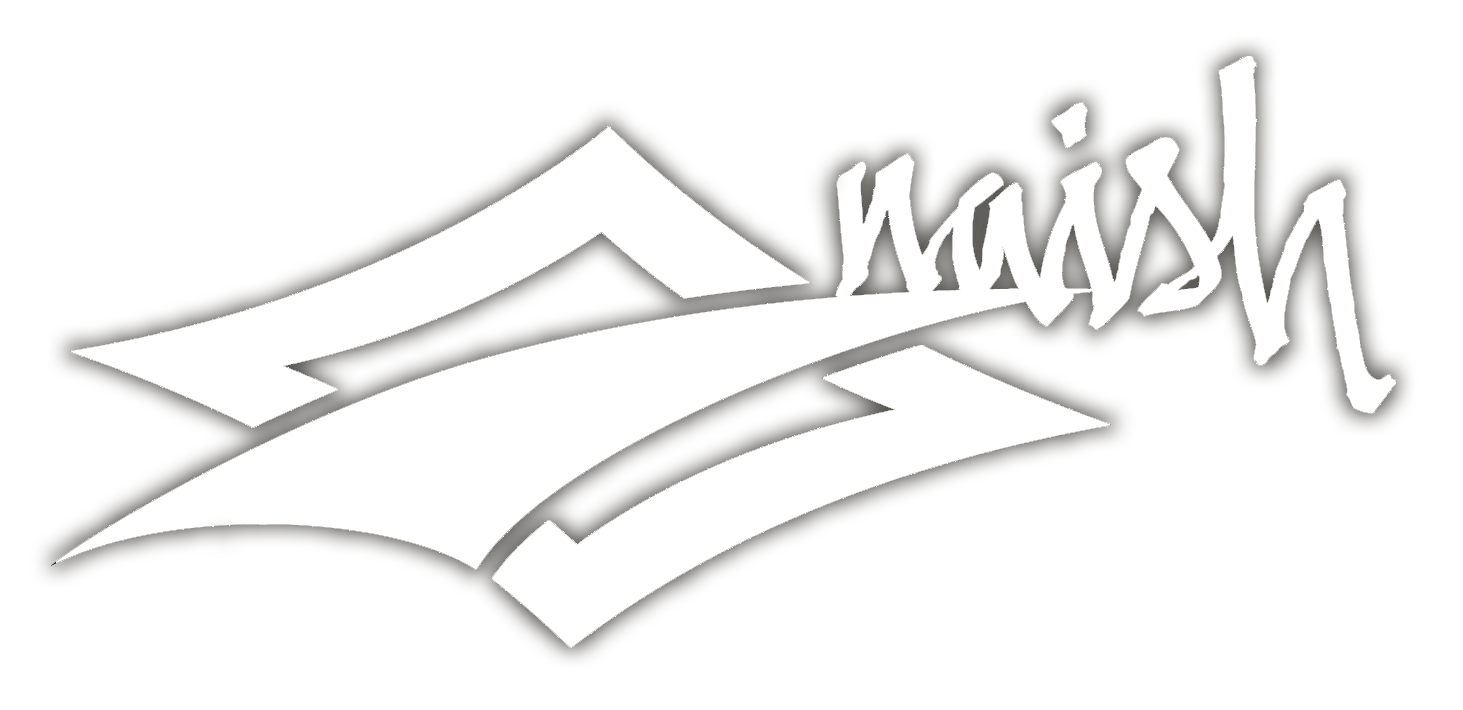 Robbie Naish
After moving to Hawaii at age 11, Robbie Naish developed his windsurfing skills and became World Champion aged only 13. He is a legend in the world of windsurfing and started the Naish brand with Naish Sails. As kitesurfing and paddleboarding were born and grew into the sports that they are today, Robbie Naish and his brand evolved. Naish now make a great range of paddleboards with the focus very much on performance.

The Naish Inflatable SUP boards are based on the tried and tested hard board shapes. Not only do you get a high performance board, but also the added advantages of ease of storage and transportation and durability.
CLICK FOR INFO ON BOARD CONSTRUCTION & FEATURES
There is an Naish SUP board for everybody, no matter what sort of paddling you'd like to do, but here are a few from the range that stand out as great buys.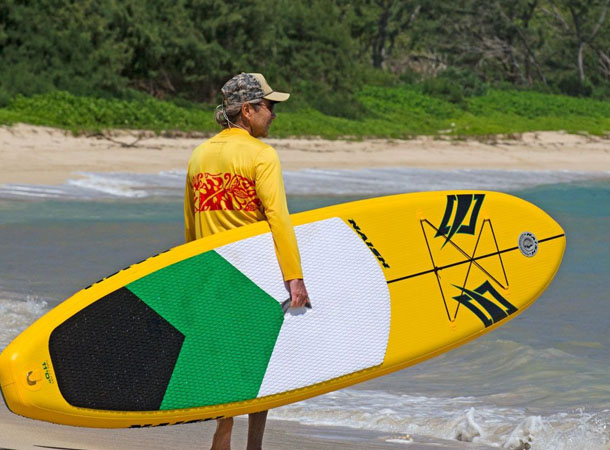 The Naish Nalu Air is an allround SUP that offers the highest levels of performance. At 6" thick it is very stiff which is a must for any paddleboard. At 11' long and 30" wide you have a much faster paddling board than many of it's shorter and wider rivals from other brands. You'll glide far with each paddle stroke which makes this SUP great for long tours and paddling fast onto small waves.
CLICK TO VIEW BOARD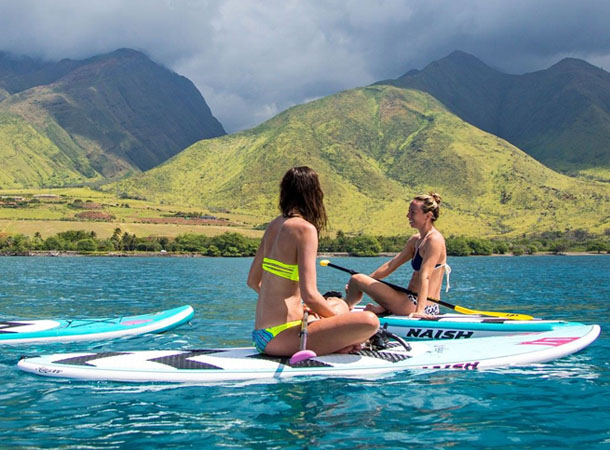 The Naish Alana Air is a women's specific SUP. It's 4" thick which makes it lightweight whilst still stiff enough for lighter-weight paddlers. At 10'6 x 30" it offers allround performance, whether flat water cruising or playing in the waves. You can't miss the girlie graphics that make this inflatable paddleboard really stand out.
CLICK TO VIEW BOARD
The Naish CROSSOVER KEIKI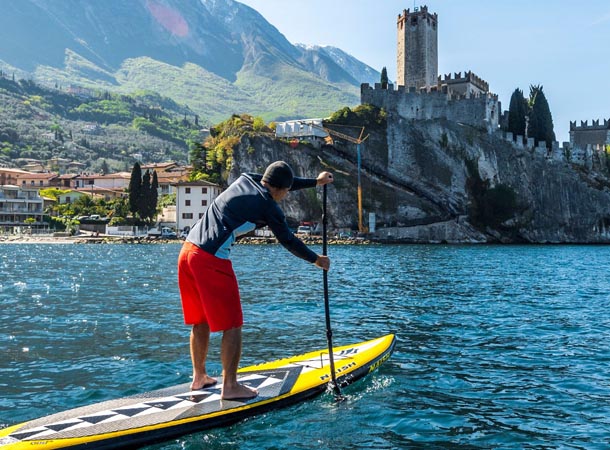 The Naish One 12'6 is the perfect balance between out and out speed and general usability. This is the race board that is built for the N1SCO One Design race circuit. At 30' wide it still offers plenty of stability which is perfect for downwinders, dealing with ocean swell and chop plus to be comfortable for long touring paddles.
CLICK TO VIEW BOARD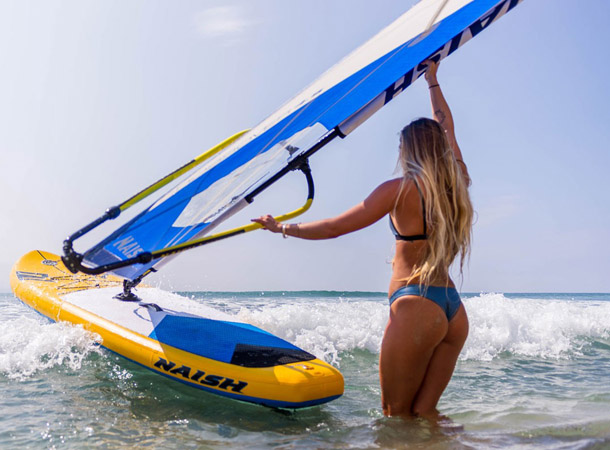 The Crossover Inflatable Series are incredibly versatile boards for both windsurfing and stand up paddling. They feature an M8 universal insert for attaching a windsurfing rig and offer outstanding sailing performance in light to moderate wind conditions. They also have a slide-in dagger fin for upwind performance regardless of wind strength. For stand-up paddling, the Crossovers are designed with a low rocker and added thickness for directional stability and long glides. This makes them the ideal boards for fun flatwater cruising and longboard style windsurfing.
CLICK TO VIEW BOARD

Have a watch of this video from Naish for the low-down on their range of inflatable paddleboards...

If you're looking for a top of the range, performance focused inflatable paddleboard then Naish SUPs are a great choice. Plus with their great graphics you know that you're on an awesome piece of kit.
CLICK TO SHOP NAISH