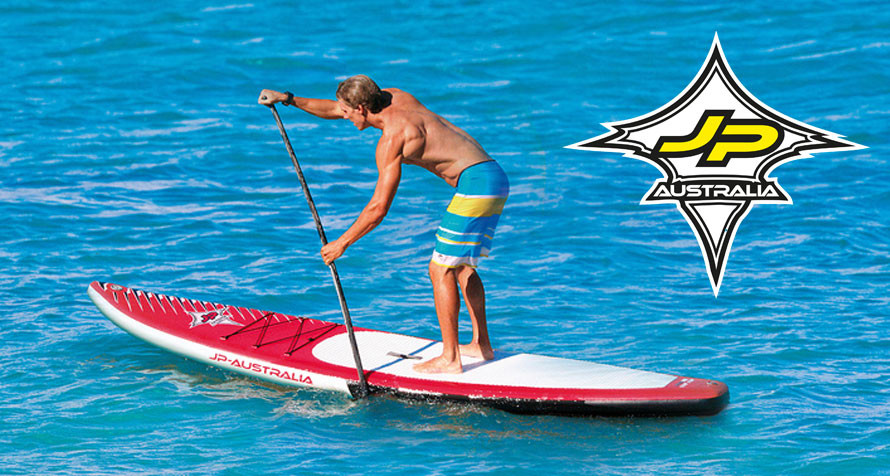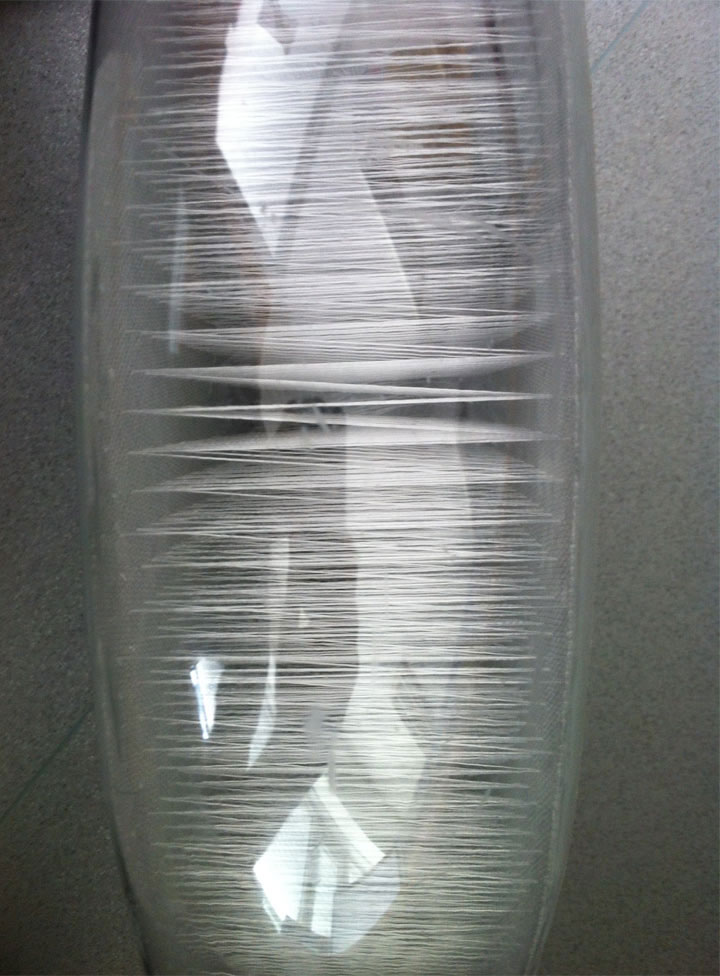 THE DROPSTITCH
The JP inflatable SUPs are more expensive than some of their rivals, but this is for good reason.
The materials that they use to construct them are of a much higher quality. JP use a higher grade drop stitch than many or their competitors. This means that each individual thread is very strong.
The high strength of each thread allow JP to use fewer threads in the construction of their paddleboards without sacrificing strength and durability. JP Inflatable SUPs are very light… for example the JP Allround Air 10'2 x 4" weighs only 9.5kg.
JP Inflatable SUPs are up to 5kg lighter than comparible boards.
The superior quality drop-stitch material also stretches less that lower grade drop-stitch. This means that as you are inflating the board the drop-stitch holds very tight allowing you to easily reach the pressure required to make the board good and stiff.
"JP use a superior grade Drop Stitch fabric. The strong threads mean that you need fewer of them... fewer threads = a lighter board, but still just as strong and stiff"
JP SUP - LIGHT EDITION CONSTRUCTION
JP uses an innovative and unique construction method that creates super-lightweight inflatable paddleboards.
The LE stands for 'Light Edition'. The drop-stich material used in the LE is thinner than in the standard JP construction, creating a lighter board. It does, however, retain a very similar stiffness to the standard JP SUP construction. This is thanks to an innovative new lamination bond during the material production.
This LE construction is not to be compared to "single skin" inflatables from other brands, which are not often 100% airtight and are much softer than a standard construction SUP.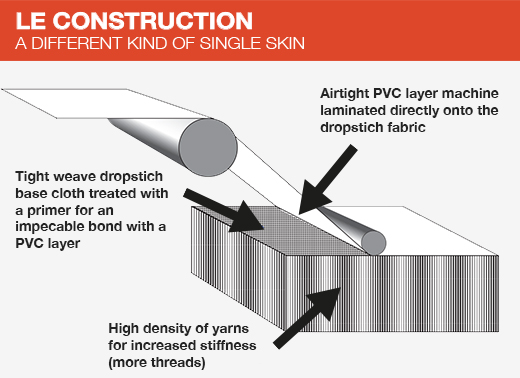 + Up to half the weight of some rival brand's boards in the same size
+ Can be rolled up extra tightly - Fits in a more compact bag
+ Excellent value for money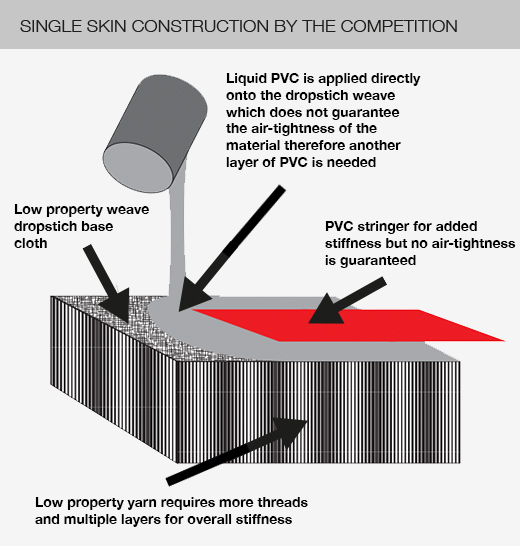 The innovative new JP LE Construction offers a very lightweight and cost-effective alternative to the traditional double skin construction method. The nature of any single skin will always mean that an inflatable paddleboard would be less durable than a double skin version, so for those who want the ultimate bomb-proof construction for washing the board up on the rocks or throwing it around, we'd recommend going for the standard JP Double Skin Construction.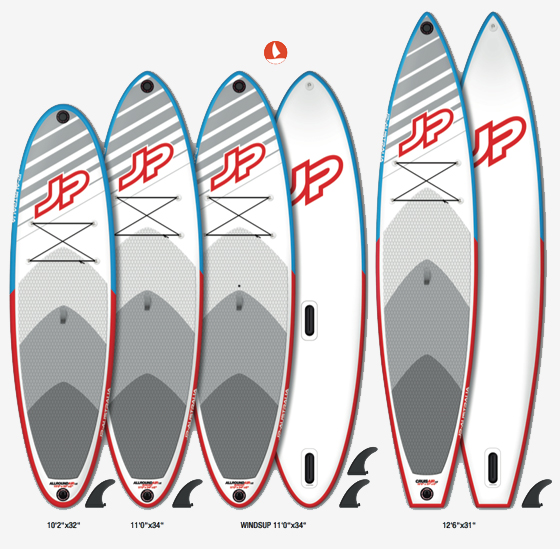 The JP LE Construction is available in the Allround Air and CruisAir boards.
JP DOUBLE SKIN
The JP Double Skin Construction uses the best materials for the purpose of making their inflatable paddleboards extra lightweight. They are up to 5kg lighter than many comparable boards. Their inflatable SUPs come in the most advanced dropstitch construction only using the latest and best materials.
They are considerably stiffer than many other boards on the market and at the same time they are very durable. The quality and material of JP Inflatable SUPs result in a clearly better performance on the water.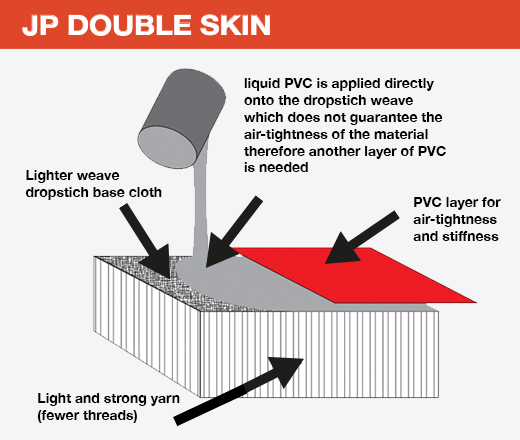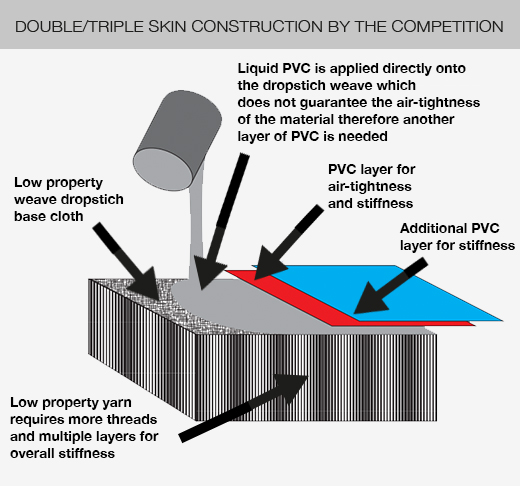 Thickness
JP Inflatable SUPs like the JP Allround Air 10'2 come in two different thickness options... 4 inch or 6 inch. So how do you know which is right for you? The thickness of the board changes its properties and performance and each option has its advantages.
In a nutshell, a thicker board is a stiffer board.
4 Inch
+ Lightweight
+ Manoeuvrable
+ Less expensive
+ Suits medium to lightweight riders
6 Inch
+ Stiffer
+ Faster
+ Excels in whitewater conditions
+ Suits heavier riders