Mistral SUP Board Construction

Mistral have worked to create this outstanding, varied range of inflatable stand up paddle boards for 2016. Take a look and let your imagination go!
Mistral launched the World's first inflatable paddleboard range, manufactured using a revolutionary internal construction technology. Before this point in the sport's history, iSUP boards have for the most part, relied upon a manufacturing technology which uses a drop-stitch material. Thanks to the outstanding ability and experience of technicians working in cooperation with Mistral, combined with European based state-of-the-art production facilities and technology, coated fabrics of superb quality using multiple-layers of PVC, have been developed successfully and are now being manufactured exclusively for Mistral.
"Revolutionary lightweight construction"
The uses for coated fabrics and their requirements are becoming more and more diverse. They may need to be flame-retardant, tear-resistant, anti-static or highly weatherproof. Modern manufacturing technology and quality control of the production processes, now guarantees the highest levels of safety and quality
DROP DOWN, NOT DROP STITCH
The double-wall fabric is a 3-dimensionally woven structure, the two basic fabrics interlinked with numerous spacer threads. Instead of using single linear polyester threads as is normal with traditional drop-stitch material, this new German advanced technology, incorporates a woven, drop-down construction. The result is a much lighter, durable and stiffer inflatable paddle board.
• Made in Europe with superior raw materials and 100% REACh Certificated quality
• Woven drop-down construction replacing unstable Jersey drop-down knitting
• Lightest and most torsion stiff double wall fabric worldwide
• Warp and weft tensile strength up to 50% more durable than existing technology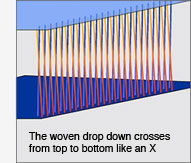 THE ADVANTAGES:
• Airtight coating
• High tensile strength
• High stiffness
• Extremely light boards (ca 1.94kg/ m2)
• Can take high pressure
• 1,0 bar of pressure provides for enough stiffness
• Excellent high stress distribution
• Durable and UV-resistant
• Strict pre-testing on quality and pressure
Processing of technical textiles and of double-wall fabrics requires maximum precision and care. For this reason, manufacturing of these new Mistral SUP boards is from within a Mistral controlled European company and factory. These new and modern production facilities are overseen by highly trained staff and technicians.
Attention to detail is critical to ensure the high quality of the final product; markings and cuttings must be exact. To ensure this level of quality and to compensate for any possible process intolerances of the double wall fabric Mistral ensure that cuts are measured both longitudinally and transversely. OPnly the very best 2-component glues, fabrics and additional components are used.
All components of the double-wall fabrics used are compliant with the European Community regulation on Chemicals -REACh no. 1907/2006 (Registration, Evaluation and Authorization of Chemicals). The aim of REACh is to improve the protection of human health and the environment. There are absolutely no prohibited substances such as lead or cadmium in the fabrics used, making this product unique in the world! The fabrics are manufactured in Germany under the internationally recognized quality norm DIN EN ISO 9001:2008 with air. All components of the double-wall fabrics used are compliant with the European Community regulation on Chemicals -REACh no. 1907/2006 (Registration, Evaluation and Authorization of Chemicals).
KEEPING IT GREEN
Mistral have environmental protection as a decisive part of their thinking. As a modern international company, Mistral's thinking is not merely local or national but most significantly, global. Minimization of environmental damage, maximization of efficiency and economy of use of raw materials with a mission to ensure protection and care for our natural resources – are integral to the entrepreneurial principles of the Mistral brand.
"Thinking is not merely local or national but global"
INFLATION MADE EASY
The Mistral pump (included with all Mistral Inflatable SUPs) makes getting on the water easy. With a simple attaching system you'll be pumping in seconds and will get your SUP up to 17PSI with minimal effort.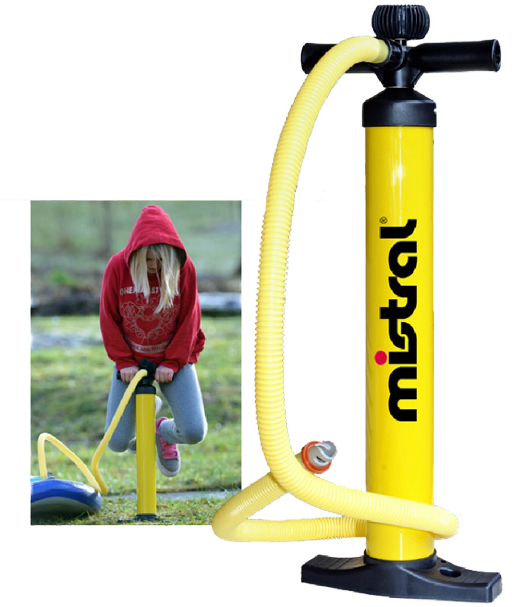 PADDLE HOLDER
A small but incredibly well thought through Mistral Innovation that appears on their inflatable SUPs: the paddle holder on the handle. The paddle can be pushed under the rubber cord, so you can easily lift the board and paddle in one single action.

If you'd like any advice about which Mistral SUP would be best for you, please Get In Touch